A Vegan Guide to Reading Labels

As you have decided to go vegan for the month of June, I have no doubt that you are currently spending more time than usual reading product labels. There are few things more annoying than having to spend a large amount of time reading labels.
However, as time goes on, you'll soon realise which products are vegan and which aren't, making shopping much easier.
Logos
Thanks to Animal Aid's #MarkItVegan campaign, every major supermarket in the UK now clearly labels its own-brand vegan products by default. As such, you'll find the words 'suitable for vegans' or a logo to indicate such on own-brand vegan products. Examples of a few logos to look out for:
Tesco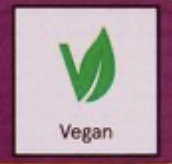 Morrisons

Lidl

In addition to this, you may already be familiar with The Vegan Society Approved logo.
Other logos include the European Vegetarian Initiative logo.

And the Vegetarian Society's Vegan Approved logo.

If a product features one of these logos, you can be certain that it is suitable for vegans.
Reading ingredients
Vegans have acquired the special skill of being able to speedily read an ingredients list to determine if a product is suitable for vegans or not. Here's how to easily determine if a product is suitable for vegans:
1) Foods that are suitable for vegetarians are all clearly labelled as 'suitable for vegetarians', this is a good start.
2) Check the allergy information, which has to be listed by law. If dairy and eggs aren't listed, this is usually a good indication.
3) Finally, scan the ingredients for animal-based additives that aren't allergens such as honey and beeswax (blog on this to come), or vitamin D3 from lanolin which is derived from sheep's wool . There are also other additives that you should be aware of (see table below).
4) If it does not contain any listed animal products in the ingredients, this will be suitable for vegans!


'May contain traces of milk'
Sometimes a product may state that it 'may contain traces of milk/egg' or 'may contain milk' or 'made in a factory that handles milk'. This does not mean that the product is not suitable for vegans. By law, companies need to state if the product in question was made in a factory which handles other allergens. This is just a legal disclaimer to warn anybody who may have severe allergies to such things.
However, if no animal products are listed in the ingredients, you will be pleased to know that it will be suitable for vegans.

You'll get there eventually!
Reading labels is one of the more annoying parts of transitioning to a plant-based/vegan diet. However, as I stated before, it is something that becomes much easier as you go on. You'll soon develop the skill of reading labels quickly and being able to scan ingredients in no time. You'll get there!